We know. We ride. We care.
Because both partners are avid cyclists and motorcyclists, we attract clients who have the same hobbies and interests. We find people are much more comfortable consulting with someone who understands where they're coming from and who has a passion for it. Our interest in these areas offers an advantage in going up against the other side due to our knowledge and personal experience.
We Are Here to Protect Your Interests (Insurers Are NOT)
Our attorneys often hear the same story —"I didn't see him" — or some other excuse that puts the blame squarely on the biker, not on the motorist's dangerous driving.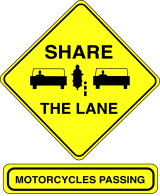 Frequent causes of serious motorcycle accidents include:
Racing to beat the light
Sudden lane changes
Unexpected left hand turns
Sudden stops
Tailgating
Dangerous road conditions, or a defective car or motorcycle part could have played a significant role in your accident. Perhaps a manufacturing defect in your bike helmet made the injuries worse. We won't know unless we carefully investigate the dynamics of your motorcycle accident.
Our firm has extensive experience handling all kinds of motorcycle accident investigations and knows how to preserve valuable evidence. In fact, we frequently retain the services of accident reconstructionists to aid in our investigations.
Saying the wrong thing after a motorcycle accident can limit the amount of money you can receive for your losses. Before you provide a statement to an insurance claims adjuster or accept a settlement offer, we strongly urge you to speak with a lawyer. Your consultation with us is always free.
We're Bikers Ourselves
We've run the roadway gauntlet of drivers on cell phones, trucks accelerating through intersections and vehicles swerving into our lane. California highway driving requires constant vigilance, but not even experienced bikers can always avoid injury.
If your loved one has been injured or killed in a motorcycle accident involving a car or truck, contact our San Francisco law office to speak with an attorney who really understands. If your injuries prevent you from traveling, we'll meet you at home or in the hospital to discuss your case.
How Choulos Choulos & Wyle Helps Injured Bikers
At Choulos Choulos & Wyle, our motorcycle accident lawyers will:
Protect your interests by handling all paperwork and negotiations with the insurance company
Thoroughly investigate the scene of the accident, preserving the evidence and gathering eyewitness testimony
Help you get an accurate diagnoses from a medical expert who understands your injuries
Ensure you receive medical care and rehabilitation services you need to achieve maximum physical recovery
Contact Choulos Choulos & Wyle
Our job isn't to simply win your case; our job is to help reestablish your financial security and health. Contact the San Francisco law office of Choulos Choulos & Wyle to talk with one of our experienced motorcycle accident lawyers. Call 415-432-7292 or 877-702-7800 toll-free.